The Poetry of Eileen Sperl-Hawkins
Big Bend Poets chapter, Florida State Poets Association

Books Pry Open Doors

Books entice me like the Sirens --
Their covers, the descriptions call;
A situation, a person familiar.
So, I buy Nuala O'Fanlain's ALMOST THERE.

We Irish feel pervasive fate
Directs our obscure drama.
The fog lifts and there we stand --
And so it is.

Mother denies her influence.
Daughter always tries to please.
Nothing changes;
Hate, Misunderstanding, Guilt remain.

In the final pages
Realization brightens a dark pub
No longer is "Forgiveness" required;
Mother deserves only a "Farewell".

Memory roughly ripped me open
Seared with a blinding light.
What do I see?
Gasping, I drop the book
Shaking it away from me.

My hands ache.
My breathing is labored.
Tears falling, I run through the house
Away from that book,
Away from that scene.

Forcing open the porch door,
I slam it shut
&nbsp&nbsp&nbsp&nbsp&nbsp&nbsp&nbsp&nbsp&nbsp&nbsp&nbsp&nbsp&nbsp&nbsp&nbsp&nbsp And sob…

Confrontation erases the ghost –
Just say "Goodbye".



passion
Unseen – I know your hiding places
But I delay going to you.

You can be within 5 feet or 3 feet
Or just behind a door
My senses are on alert
A tenseness pulses
My teeth are clenched
My fingers erratically twitch

The moment is coming
A consent is rising
I move toward you
Grabbing the door
Jerking it open
No longer a barrier
Nothing separates us.

I bend at the waist;
Lean slightly to the right
Stretch my right arm forward
Fingers extended
I've got you, M&Ms
We meet again!!!




The Search

Feeling restless, sleep eludes me;
TV holds no interest

Circling through the kitchen
I reach for the pantry door.
Thinking better of it
I move on to the refrigerator.

Deeply sighing,
I click my tongue,
Questioning my quest.

I enter the living room
Sitting down; then getting up.
Which direction to go;
Are there chips atop the fridge?

Shaking my head, shrugging my shoulders
My hands grasp my hair in frustration.
What is it I want?
How do I nourish what?

I pick up a magazine, turn the pages;
A recipe for low fat cheesecake;
I keep turning the pages.

There's a kitchen all white
With a large container marked BREAD.
Maybe I should eat?
I certainly can't sleep.

This pacing and searching continues for days.
I remain unsettled, uncomfortable, hungry.

Monday evening's meeting is routine.
Praying, talking, reviewing the week.
Then Father says:
Action must be added to prayer.

I sign up to visit the shut-ins;
And I've been sleeping ever since.





Hail to the Chef


Parsley squashed flat,
Garlic crushed and smeared
Cover the tiles where he stands.

Tomato seeds suspended
Floating in its fruity gel;
Onion slivers carelessly dismissed,
All fall to the floor unseen.

Ginger knuckles shredded
Tearing skin and pulp in a grater
Perfume and flavor the spicy blend.

Olive oil drips,
Pooling near the fry pan;
Pepper grinds float
On the stove's surface,
Circling burners
Dispersed in his wide stroke.

Kernels of Basmati Rice
Scattered among vegetables
Expand the medley mix
Enriching the dish.

Mallet-impressed paper,
Beef juices clinging
Adhere to sink-bound bowls.

Spilled salt, hand-swept
Clear the counter surface
Lodging in crevices, splashed on the floor.


Scrapers – pink, purple, green –
Edged with flour, oil or egg
Tossed toward a large bowl
Two scored; one missed.

A bowl is reclaimed
Flipping a whisk floor-bound,
Retrieved, but a yellow blob deposited.

PAM-spray coats the roast pan
Glazing stove and burners sleekly;
A finger smear slides through the spots.

A large spoon rests
Cradled in a spoon caddy,
Dripping broth,
Ready for his hand's touch.

Meat and vegetables combine,
Settle in the oven
Absorbing the heat,
Releasing its juices,
Blending tantalizing tastes.
Fragrant steam escapes.

The chef wipes his hands,
Unrolls his sleeves, buttons his cuffs.
He turns on his platform
Acknowledging the players, the scattered instruments,
All part of his grand performance.





Eileen Sperl-Hawkins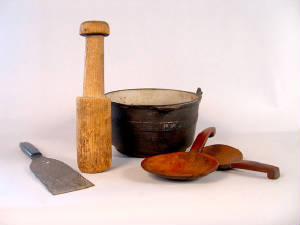 " Acknowledging the players, the scattered instruments...."
EILEEN, a member of Osher Life-long Learning Institute since Fall 2002, joined its Writers Group in Fall 2003. A New Yorker with secretarial experience in schools, forensic psychology, a utility company and with New York lawyers, she moved to PA. In Bradford County PA, Eileen was Teen Coordinator for the Guthrie Healthcare System. In September 2001 Eileen and her husband Chris moved to Tallahassee. Here Eileen found her voice in poetry. Her first book will be published in June 2009. She is a member of the Big Bend Poets chapter of FSPA. Eileen and Chris have six children as well as 6 grandsons, four granddaughters (soon), one dog and two cats.

Created 090626
Updated 090731