The Poetry of Caroline Walton
President, Gingerbread Poets chapter, Crystal River FL
Florida State Poets Association
1st Vice Chancellor, Publicity Chair, National Federation of State Poetry Societies

There is no Frigate like a book,
To take us lands away.
Nor any Courser like a Page
Of prancing Poetry.
...Emily Dickinson
When I am stressed I find a nook
To satisfy a quiet need
I crawl into my space to read,
There is no Frigate like a book.
 
Imagination rules the day
As images whirl through my mind.
the written words all intertwine
To take us Lands away.  

The flowing words help to assuage
My temporary discontent,
There is no flight more reverent
Nor any Coursers like a Page.
 
I find I read voraciously
Exploring things I never knew,
Especially in my debut
Of prancing Poetry.  
**Gloss form, Poets' Forum Magazine 1998


Song of Sonnets

The rhythm of a sonnet sings to me
With flowing words it plays a sweet refrain
Iambic notes become the central key
To move and pace its chorus without strain.
A flutist could not play a sweeter phrase,
Nor organ pipes resound a greater note
Than music from a sonnet's clever maze
Of structured syllables, and rhyme, and rote.
The sonnets sing with words from days gone by,
Yet modern tunes are coaxed to weave and bend
A pleasing melody, when poet's ply
Their expertise, a song is in the wind.  

Iambic notes are waiting to be played
Before the melody begins to fade.
**1st Place Kentucky State contest, published in Parnasus 2000


Don't Count Me Out Yet

My hair is gray but I'm not dead,
If I must age, I will wear red!
I'll wear high-heels and dance till dawn,
I'll drink champagne and hide a yawn.
My SUV is quite the style
Its sporty lines are full of guile.
I wave to friends in paisley prints
They nod and say I've lost my sense.
Their gossip is, "She should grow up,
Accept her age, she's filled her cup."
No matter what, I'll still wear red,
Just cause I'm gray, don't mean I'm dead!
**1st Place PA Poets contest 2004




Caroline Walton
"There is no Frigate like a book."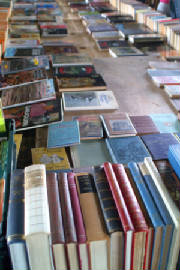 Book Fair, South Bank, London (FreeFoto.com)

CAROLINE is a native-born Floridian with a genetic pool of writers and poets in her background. In her childhood her grandmother taught her to write rhymed poetry and she has evolved from there with sonnets being her favorite. She does love the challenge of new forms also. She has been published in several magazines and anthologies and has won numerous contests. Caroline is a past president of FSPA (twice) and is currently its contest chairman. She is President of Gingerbread Poets and has recently been named Poetry Day Liaison for NFSPS. With a musical background also, Caroline volunteers by playing the organ twice a month for two Assisted Living homes and has played for weddings and as a summer substitute for the church organist. She lives in Crystal River with her companion, Bill, and between them they have 8 children and 10 grandchildren.

Created 060213
Updated 090731